Port Harcourt Serial killer Laments Maltreatment by Prison Warders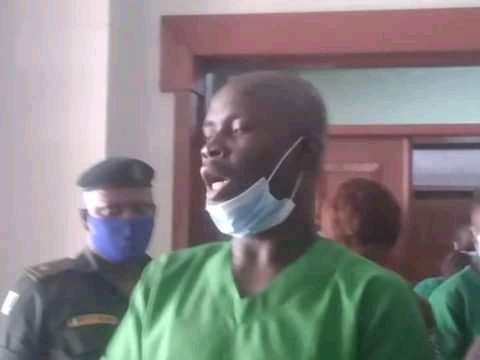 *Judge warns Prison Warders to desist from maltreating accused Serial Killer, Gracious David West in their custody
BY ERIC OLUSESAN
There was mild drama at a State High Court today as the accused Serial Killer of his female Victims, Gracious David West complained to the trial Judge, Justice Adolphus Enebeli, that he and other inmates at the Port Harcourt Correctional Centre were severely beaten on regular basis by Warders.
He even said that as a result of the beatings some of his teeth aedre paining him.
After listening carefully to the accused, Justice Adolphus Enebeli warned Warders from maltreating him and other inmates.
First time serial killer, Gracious David West was paraded at Police headquarters in Port Harcourt.
Accused Serial Killer Gracious David West complains of physical assault by Warders,want threatens to address Journalists.
On the substantive case,the Court has given seven days to the prosecuting counsel in the murder case of Port Harcourt serial killer Gracious David-West to file its written address.
When the matter came up for final adoption of written addresses, Counsel to the first and second defendants informed the court that the Prosecution counsel was yet to serve them the addresses.
The presiding Judge, Justice Adolphus Enebeli ordered the prosecution counsel to file in their written addresses within seven days, Counsel to reply on point of law within seven days and adjourned to 14th of August 2020 for adoption of written addresses.
Justice Adolphus Enebeli ordered officials of Nigeria Correctional Service to avoid assaulting inmates following Complaints from counsel to David-West over alleged maltreatment of his client.
Speaking to Journalists outside the Court room, Counsel to the 2nd defendant, Lezina Amegwa said various parties ought to have been served but was adjourned due to the prosecution not been served in due time.
Also speaking, Counsel to the 1st defendant, Vincent Chukwu expressed displeasure on how his client was been assaulted by Officers at the correctional centre.
Meanwhile, Gracious David-West had earlier told the court how he was been manhandled by the officers at the Port Harcourt Correctional Centre. He also complained of bad treatment melted to prison inmates at the centre.
Alleged Serial Killer who tried to wade through the Officers of Correctional Centre in Port Harcourt threatened to address Journalists about the maltreatment meted out to him and other inmates blurted out:
"Allow me speak to journalists, I must speak with them today, I will tell them how you have been assaulting me and beating me in prison. Even my teeth is paining me, let me tell journalists what is happening in the prison, how you people are doing us". Accused a warder of the Correctional Centre of assault.