"YORUBA SHOULD GO BACK TO THE ERA OF CULTURE AND SELF DISCIPLE …AVOID YAHOO GET RICH QUICK SYNDROME"—PROF. ABDULRAZAK KILANI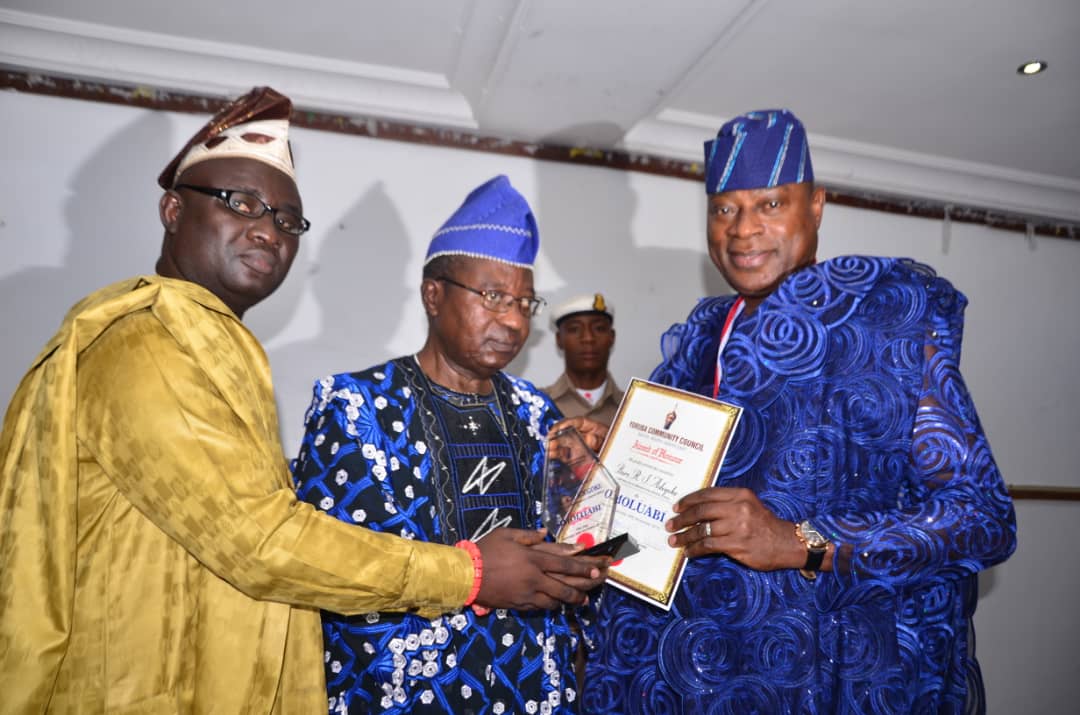 The 2019 annual lecture and award ceremony of Yoruba Community In Rivers state which was held on Saturday, 30th of November, 2019 at Cubana lounge and event center, plot F6c Sanni Abacha Road GRA Phase 3 Port Harcourt rivers state capital South-South Nigeria must have come and gone but the echoes of the Keynote lecture as delivered by Professor AbdulRazak Kilani who was represented by Dr. Martins Adekanbi is generating reactions globally.
In his lecture titled "Extending Interdependence, a cohesive Yoruba culture for National Unity" drew applause severally as he reviewed the inter-relationship between various ethnic groups and the factors that necessitated their intra and inter dependence migrating tendencies in the past which is currently replaying itself with the socio-economic migration of people of Yoruba ethnic group. He espoused the fact that the Yoruba took advantage of acquiring early western education which has helped in advancing their developmental capabilities ahead of other ethnic groups in Nigeria.
He spoke eloquently about the trend in Yoruba land then and now, and how parents corrected their wards, and children as this instilled fear of their parents in their upbringing. But, now he said that the reverse is the case, as recent developments of social miscreants and urchins have led them to embrace 'get rich quick syndrome' popularly addressed as "Yahoo-Yahoo boys" as he said "we now have Yahoo plus ritual killings, youths stealing pants and underwear belonging to the female folks". The erudite Professor advised that as a people we should try to correct this, and curb all these in order to go back to our former way of life of a Yoruba of culture, respect and dignity.
The award ceremony session had Barr. R.S Adegoke, Comptroller of Immigration Rivers State honoured as Omoluabi, others who received the award include Chief (Sir) & Lady Matthew A. Olubobokun, as Oluranlowo, Prof. Abdulrazak Kilani, as Asape Ire, Alhaji Mustapha Taiwo, as Alaranse, Pastor Toyin Alabi, as Atinilehin, Rev. Dr. Martins Adekanbi, SIPM, MNIP, J.P, as Iranse Ododo 1, Bunmi Toki Durojaiye, as Iranse Ododo 2.
The Chairman of the Yoruba Community Council in Rivers state, Chief (Dr.) Bright Adekunle Alabi, in his speech expressed appreciation to all the dignitaries that honoured the invitation and all the members at large, he also used the occasion to wish the members well in all their endeavours. He encouraged them to keep up the love and unity among the members and in the bond of peace for the development of Nigeria.
READ ALSO: "WHY THE YORUBA ETHNIC GROUP IS AHEAD OF OTHERS IN NIGERIA"—PROF. ABDULRAZAK KILANI
The Chairman of the occasion, Chief Kola Babalola, SAN gave a note of address on the background of Yoruba Community Council in Port Harcourt, and how it all started. He called on the Comptroller of Immigration a true son of Yoruba land to have a look out for Yoruba Community Council upon his transfer to Rivers State.