NDDC CHASE AWAY GOV. WIKE OUT FROM HIS PRIVATE PALATIAL RESIDENCE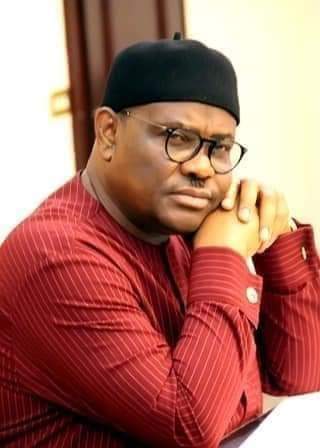 —AS HE BUILDS 2 PERSONAL BOMB -PROOF HOUSES IN PORT HARCOURT
The fear of being hit by missiles coming from the newly constructed multi-storey Operational headquarters of Niger Delta Development Commission-NDDC located at Eastern By-Pass Port Harcourt and which was started by Chief Albert Horsfall OMPADEC is the beginning of wisdom for the 53-years old Governor of Rivers state Nyesom Ezenwo Wike. Standing close to the tall NDDC new Headquarters is no.11 William Jumbo street OLD GRA Port Harcourt a property that he acquired long time ago as Chief of Staff to former Governor Chibuike Rotimi Amaechi and which he developed as Minister of State For Education during President Goodluck Ebele Jonathan and from where he has been operating from since he won election first in 2015 to date. The close proximity of the 11 William Jumbo Street property to the Ultra-Modern Government House Port Harcourt has made most Government businesses being conducted from his private palatial country home beside Brick House Rivers state seat of Political Power.
Now the Rivers state Governor has finally completed a bullet cum bomb -Proof mansion located along Ernest Ikoli Street behind Government House Old GRA. The concrete filled roof and circular shaped fortified walls depict ancient Fortresses built by Kings of the early 7th to 12th centuries which the self-style Mr. PROJECT is after not forgetting himself in the provision of good things of life as shelter is the primary needs of mankind on earth. Sharing boundary with Assemblies of God Church Regional Headquarters Residential Home in Port Harcourt and facing Southern wing wall of Port Harcourt 1928 Club Golf Course Bereton Montessori Group of school is located few meters away and Chief of staff residential Quarter located few meters away as a mystical Organization has their open congregating arena located by the same proximity where Rivers state governor Wike has relocated his 11 William Jumbo private residence to for fear of being attacked by sharp shooters from any tall building surrounding his own house hence he asked his structural Engineers to make sure that the roof is covered with steel filled concrete materials that will repel any missile or shock from bomb and this brief was fulfilled with precision and the house is now completed and the Governor was last seen by this writer inside the property on Tuesday 29th of December 2020 as he was enjoying the serenity and defense laden inner structures.
Satisfied with the execution of the Ernest Ikoli OLD GRA private Bomb-Proof Palatial country Home the Rivers state executive governor is now replicating exactly the same structure inside his Rumukpakani Mile 4 by Ada George Road private residence where many motorists and Passersby had already misplaced for Helicopter landing Platform. www.towncrier.ng can tell you for free that this is more of a security House that is well fortified against attack by enemies foreseen or unforeseen.