"I DON'T THINK WE ARE THREE IN THIS WORLD THAT GIVE THE WAY I GIVE" – Pastor David Ibiyeomie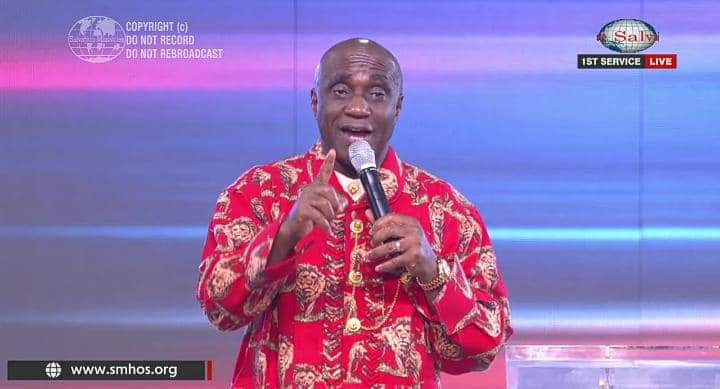 …IF IT WAS NOW THEY WROTE THE BIBLE THEY WOULD HAVE WRITTEN MY STORY.
…THEY WOULD HAVE SAID THERE IS A MAN THE WAY HE GIVES
…WHEN MY TIME ON EARTH IS OVER THEY WILL SAY THE HIGHEST GIVING MAN ON EARTH
The Salvation Ministries, Pastor David Ibiyeomie, said you can't sow to my life and not get an immediate harvest. I'm super prosperous, super fertile. When I told my wife what God told me to give as a thanksgiving offering, she shouted and said, "We are just playing o" When I said I was to give, as I entered the covenant, he said, "This is the amount you should use to give me thanks" He was specific of the amount. I've sowed seeds more than that but for thanksgiving, I have never given that kind of amount. He said this is the amount you should use to thank me. He mentioned the amount I wonder how people say when they give tithe, they didn't hear God.
Pastor David Ibiyeomie, aslo said, calculate everything I am wearing, including the gold. The amount I am giving as thanksgiving is more than that. He said this is the amount I should give as thanksgiving. Are you getting what I am saying now? The boys who usually prepare my offering and the rest, they said, "Sir, you get heart o, the way you deh take sow, you get heart" Because my tithe alone is somebody's tithe, offering, prophet offering, kingdom project, that is my tithe alone. What I give as tithe is your own, some of you, your kingdom project, cathedral offering, I'm not talking about my offering, my tithe. When they see my tithe, they say, "Sir, you get heart o" When they see my prophet offering, they say "Yeah".
So tell me how I will not be fertile. My giving, in this world, you know people, to give, I don't think we are three (3) in this world, the way I give. If it was now they wrote the Bible, they would have written my story. They would have said there is a man the way he gives, long to come, not now when my time to be on earth is over, they will say the highest giving man to live on earth. You know giving is not the amount, it is the percentage. That people can give today, they can give, you know if you want a federal appointment, you can donate to the government. They will appoint you so that you can steal back. Can you give when you are not expecting anything in return? Giving is not somebody who will give you back. Giving is giving to somebody who cannot give back to you, who cannot even say thank you.