POLARIS BANK OUT WITH SUMMER TRAVEL MADE EASY — POLARIS SELECT ACCOUNT DEBUTS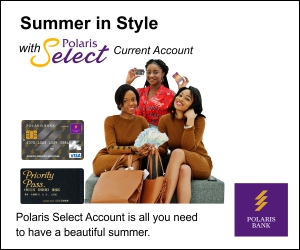 For the upwardly mobile global citizens life has changed with Polaris Select Account which the bank has rolled out for its Current Account holders. This summer season in 2019 comes with a lot travels and individuals want certain things taken off from their daily routine of active businesses and Polaris Bank has identified that responsibility which it is now calling on customer to take advantage of with Priority Pass an innovation in modern banking.
First in the Polaris Select Account is the individual who values Premium banking services that set such person on the go.
www.towncrier.ng gathered that this Polaris select Account caters for individuals' transactions and life-style needs which include dining; groceries shopping et al.
The initial approach for getting started is for an intending customer to make he/she available to the Polaris branch Manager Services at the designated ten branches across Nigeria. These include Plot 567, Gimbiya Street Area II, Garki Abuja; Plot 2466, Maitama District Wuse Abuja; Plot 232B Adeola Odeku Street, Victoria Island Lagos; Plot 708/109 Adeola Hopewell Street, Victoria Island, Lagos; Block 10A, Plot 5 Admiralty Way, Lekki Lagos; No.5 Alfred Rewane Road Ikoyi, Lagos; Polaris House Alausa- Plot 5, Commercial Scheme, Ikeja Lagos; No. 13 Toyin Street Ikeja, Lagos; 48 Warehouse Road, Apapa Lagos and 143, Olu Obasanjo  Way, Port Harcourt Rivers State Southern Nigeria.
The Polaris Select Account portfolio has the following attractive features which include financial offerings cum zero Current Account maintenance fee on Account Balance or N200, 000.00 and above; it also attracts higher spending limit on the Platinum Debit Card, customers will avail themselves with Check Book for easy transactions; other benefits are exclusive offerings on discount, dining, shopping and other life-style privileges. There is Access to a Master Card Platinum Debit Card, Internet and Mobile Banking via *833# as you select 6 to check your account balance.
For ultimate benefits of Polaris Select Account with exclusive life-style offering involves free Priority Pass membership with access to over 1000 airports, lounges in Nigeria and around the world. Polaris Select Account holders will benefit from two free airports lounges usage per year and access to Quick Service tills in select ten branches as earlier listed.
There is also Prioritized access to banking services in all Polaris Bank branches with dedicated Account Managers. In all, there is minimum operating Account Balance of N200, 000 at those branches.
READ ALSO: THE UNTOLD STORY OF RISE TO EMINENCE OF MELE KOLO KYARI GROUP MANAGING DIRECTOR-GMD NIGERIAN NATIONAL PETROLEUM CORPORATION

On the other hand, students are not left out in the new generation banking services such as Polaris Campus Plus, Polaris Save Plus; Polaris Wise Account, Polaris Bank Transfer Code and Polaris Debit Card to ease today efficient banking among the populace.