I STILL FEEL YOUNG AND DELIGHTED HELPING PEOPLE, EVEN AT 65 YEARS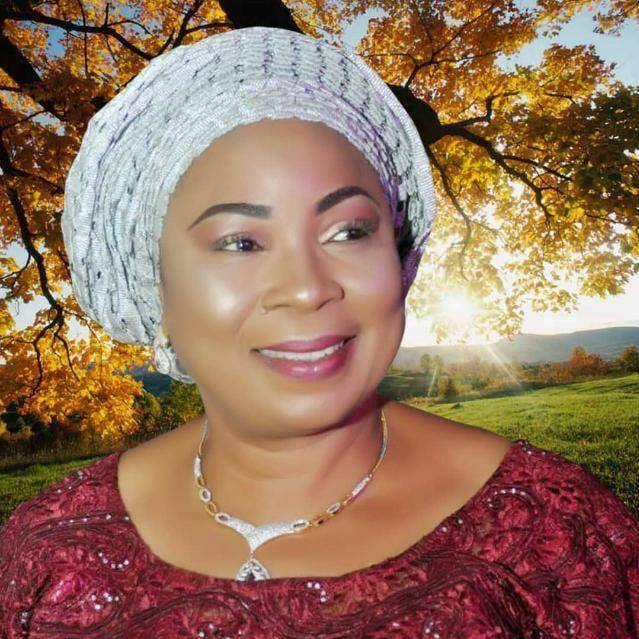 -Blessed Waters Boss, Victoria Bolanle Oginni
Back in the days of yore, Nigerians are used to the consumption of 'ordinary' iced water which used to be sold for N10 and not many knew then that it was simply the grace of God that millions of people did not die of serious ailments like typhoid which could be contacted through the intake of unhygienic water. Years after, some thoroughly thinking individual thought about redefining water and make it more appealing and above all safe for human consumption. One of these valiant thinkers is  Deaconess Victoria Abolanle Oginni nee Olopade. This beautiful and highly gifted business amazon remains one of the pioneers of modern day water production and consumption in Nigeria. She started the business more than three decades ago and today the Blessed Water brands is a top player in the industry. The very industrious and illustrious woman of valor is loved by all who are close to her. A visit to her posh office situated in highbrow Omole Phase 2 in Lagos spoke volumes about her close affinity with her workers and how she handles her business with genuine fear of God. She built a very cordial relationship with her workers to an extent that one could hardly differ between them and her biological children. She never wasted a little time in attending to their financial and moral needs at different occasions. Come October, 2019 the beautiful and God-fearing Deaconess of the Redeemed Christian Church of God will be celebrating her 65th birthday. To the amazement of many, she looks every inch younger than her age due to her moderate lifestyle and her deep closeness to the Almighty God. Born to the great Olopade family of Gbongan in Ayedaade Local Government Area of Osun State, Deaconess speaks on her beginning, her adventure into the world of matrimony, her venture into business and other topical issues with BUNMI ORIJA at her exquisite office. She is indeed a delight to be with. Excerpts:
As one of the pioneers of the modern day consumption of water in Nigeria, what would you say gave you the idea of re-branding water in the country?
Well, I could say the whole story started more than 40 years ago when I was staying with a brother in Ibadan. I was then working at a school in Abebi area of Ibadan. Then, in the school I worked, we used to have three shifts and this enable those that are not in the morning to engage in extra money making ventures to further boost their finances.  Then, I could remember that one day, I was going to school, although I was late because I had to do some menial jobs at home before heading for work, I boarded one of these small buses popularly known as 'Korope' in Yoruba land and then it was a heavily rainy day, so unfortunately an elderly woman who was walking by the way wise was splashed with water and the kind of training I got from my parents was that we must not handle anybody older than us with levity, we must learn how to take good care of elders. So, I came to the succor of the woman, helped her to clean her stained clothe and ensured she looked better. Then, when I was about to take my leave, she called me back and said "your mother did not tell you that you are a water child?" and I immediately replied her that 'ah, am not an ogbanje ma, I am a teacher, am on my way to school". The old woman looked at me with absolute seriousness and told me point blank that anything I lay my hands upon that had to do with water, shall be successful and she also said I am a kind of person like my father; that anything I have, I love sharing to people. And, if you know me very well, I don't know how to keep things to myself alone. I love sharing things with people, most especially those who are seriously in need of such things. I could confidently call myself a cheerful giver and a lot of people who are close to me can attest to this. Since that encounter with the woman, I started working on it. So, some years later, I went to Sango, you know my mother was a trader and I learnt the rudiments of trading through her. So, when I got married, I started doing business right from the home because my husband used to be a manager at the West African Cement Company (WAMPCO). I had already vowed that I must use the opportunity of my spare time to do something active and profitable. Back then, we were living at the staff quarters there in Ewekoro. So, whenever I was not in class, I do ice block which I sold to people within and outside the staff quarters and I also let my school pupils and other teachers know about it. Sometimes, my ice block would not even be enough so, I introduce the buyers to some others. I opened the eyes of some of the women in the estate who were hitherto doing nothing then into the business. I am a kind of woman that doesn't like someone to be a liability to others. Before I got married, I already have something I could do to help both myself and my family and till date, anybody who wants to work with me must have something he or she would rely on after leaving here. I don't pray for any of my workers to leave me and then return to the labour market, searching for another job. There are so many hidden opportunities in this country that people don't know about. So, back to how I really started the modern pure water business, my husband was a senior staff at WAMPCO and sometimes he travels abroad for courses and seminars, so during one of his trips, precisely to Denmark, I got the idea of producing the pure water stuff there. On returning home, I started doing it the modern way and gradually, the business started growing and we established branches in Sagamu, Osun, Abeokuta, Ibadan. Along the line, I had to call my son who was the in the United Kingdom to come home and assist in overseeing one of the branches. I complained that that business is getting too much for me to handle. The one in Osun, I put one of my brothers there while my son handles the one at Ibadan. I really had a very nasty experience with workers before taking such decisions. Be that as it may, I got an experience when my son who did not go to school one day, started sealing a nylon. I studied him vividly and when we travelled to Denmark and saw the way they branded something like lollipop inside a bigger nylon, I grabbed the idea and when we got back, I asked my son if he could seal a bigger nylon like what he did with Lollipop, and he said yes, and that was how he produced the water in a bigger nylon and I took it to someone that was manufacturing the bigger nylon and asked him that can we get a water in a nylon like this?. When we were about to start, my husband was transferred from Ewekoro to Sagamu factory. So when we got to Sagamu, I already had my machine and like someone who could not do without business, I ventured straight into the manufacturing of the bigger form of water. I initially introduced it to somebody and he too got interest in doing it and meanwhile he was into the production of bottled water then, so I told him why not leave that (the sachet water) for us to do?.
So, was there no regulatory body then?
There was NAFDAC then but not that powerful as it became later. It was even my husband that insisted that I must register with NAFDAC if I want to survive in the business. So, later I was the one that went to NAFDAC myself and told them about what I wanted to do.
And how did the journey continue from there?
It was nice, I recalled years back when I met one of my old students at an event, he asked if I am Ms. Olopade and I said yes. I asked him where he knew me from and he said St. Patrick and he quickly prostrated while his wife was looking at the whole scene. He actually gave me a hundred thousand naira that day. It was at an association meeting then. We had an association which comprises of me, the ebony water and so on. We were about 10 people. We had an election and because others were in Lagos, I was in Ogun State, they used that to have upper hand above me and Mrs. Uwaje became the association's president. So, that was how we started and God has been faithful, we were begging people then to come and join us.
Can you let us into the challenges faced while on the business?
There were lots of them because then, I love uniqueness, so what I did then was that I put straw in my own water because I realized that we were getting many, people are coming heavily into the business and I said, what can I do to be different? I remembered everything I went through for the success of the business and so I need to be more proactive. Along the line, we fell into the wrong hands. A man lied that he was working with NAFDAC, collecting several amounts of money from us. We also have to go through some issues with NAFDAC which we later resolved. One of these issues was when the agency insisted on borehole and not well. I did the borehole and yet our enemies still went ahead to discourage people from buying our water that it was produced with well water. We then know that there are bad elements that were and are out to destroy the name of the agency. I personally drove my 505 car then to show them the water for clarifications sake. I also used the same vehicle to sell our water then. Later, we bought a bus which my brother was using for the business. Another challenge is that of human capital. How to manage staff. They are of different backgrounds and characters. There was a time I bought cars for 10 managers. This is just to encourage them do more while also making them know that they are part and parcel of the organization.
What are some of the things you also want to recall?
Actually, I was born into a comfortable family. My father, the late Olopade was a very popular man in our town, Gbongan. He was a famous man and he used to judge at the local customary court then. We are 35 in my family and I am the last child. He did in the early 60s. I used to see people trooping into our compound due to one case or another. From land grabbing to husband or wife snatching and so on. I knew my father very well when I was young. My mother is from Modakeke both of them from Osun  State. So, I recall that even though I took after my father so much, I love my mother very well too. This is because she was very hard working, when I was a little girl, my mother has strategies she devised while sending me to her customers. She would wrap crispy naira notes around my waist and whenever I got to the person she sent me to, the person would just unwrap the cloth and get the message from my mum. Nobody would know what I had on me while on the way to the customer. My mother was a very creative businesswoman. Again, my father used to be a politician, I recall when the late Chief Obafemi Awolowo came visiting us, he came with his daughter Tokunbo who brought a baby toy from Lagos and I also had my own carved baby toy known as 'Omolangidi' in Yoruba and Tokunbo said she will carry my own 'baby' to Lagos and I also told her that I will carry her own too (general laughter). So that was the kind of parents I had. I took after the both of them from different angles. Even when I was at Teachers' Training College, I used to go to Cotonou to buy goods and resell at home. My belief since I was a child is that one has to struggle to get to the top. There is a saying that goes that prosperity goes up and never comes down unless there is something (diabolical) mixed with it. I leant a lot of business up and downs from my late mother. Sometimes, challenges will come as if to back up, but I will not. Oftentimes, even if it is a man he will back up, but with God on my side and with frequent prayers, I was able to sustain and is still sustaining till date.
Haven't you felt like inculcating another business into the Blessed brand in the past?
Well, we tried to but because of lack of equipments, knowledge, we were shortchanged. Had it been we embarked on other projects, we would have been bigger than where we are now. In the past, we tried to go into biscuit manufacturing and other stuffs. We planned to do so many things before problems suddenly cropped in, which nearly sent us packing; it is only God that revived the company because it was a real big problem. Some fraudulent people used our company's name to borrow money from the bank which we have to pay. But I don't want to go into further details about that. So, it took bravery and seriousness to still remain afloat in business. I learnt all these from my mum; she was not into accounting or any formal education bus she was so gifted in the art of buying and selling. So, I followed her footsteps. I know how to improve my business without bothering myself so much on anything. The business pro-activity I garnered from my mum really meant so much for me.
Ma, away from your business, let us talk about your social life as one of Nigeria's female celebrities?
Surprisingly, I am not a party freak. I select the event I attend because I am a deep Christian who became born again at the tender age of 12. I am very close to my God and to spot me in an owambe party is quite difficult. I only attend select and reasonable events where I would learn one or two things about both business and life. What is there to gain in going to parties anyhow? Nothing absolutely, that is why I found it difficult to go to parties.
As a born again Christian, what would you say of the recent controversies rocking the Christendom?
I would say it is just due to ignorance. There are some babalawos that call themselves Christians. They go about deceiving and lying to people. I want you to know that despite the fact that we have many genuine men of God in Nigeria, there still exist fake ones. Some people use names of great churches like the MFM, RCCG and co to cover up, but they are not members. The issue is before you can become anything in these churches, you have to go through due processes. You have to be baptized and undergo many biblical lectures and seminars. You also have to go through rigorous workers' training before you can become a worker, say for examples in the Redeemed Church. You cannot just jump from nowhere to the top at the church. Like I said, it is a process.
What church do you actually attend ma?
I am currently a member, a top one at that in the Redeemed Christian Church of God. I also attend programmes of the Mountain of Fire and Miracles (MFM) Church but my former church was the Living spiring Church headed by Pastor Femi Emmanuel, I was one of the pioneer members of the church. I left not because of the pastor or anybody else, I just felt I need a new and different biblical and spiritual approach to my Christianity.  I joined the RCCG about 18 years ago and it has been awesome moments with God. I sit with the General Overseer and other top pastors of the church. I speak regularly with them on phone and I do not miss any of the service on weekly basis.
How close are you to the elders of the RCCG?
We are very cordial. They are my spiritual leaders. I sit on the podium at RCCG as an elder too and I have a very good rapport with all the elders beginning from the General Overseer, Pastor Enoch Adeboye, Pastor Kalejaiye, Pastor Daramola and the rest. I am a part and parcel of the church and I also maintain a very close relationship with the MFM family led by Pastor D.K. Olukoya. I attend many of the church's programme and in fact we recently spoke when I arrived from London and he asked me if I am coming for the convention and I asked if there is any, but he was surprised that I was not aware. So, I appreciate him so much and the entire MFM family for being concerned about us and I am also in contact with Pastor Femi Emmanuel of Living Spring Church and others.
So, how do you keep fit that makes you look younger than your age?
Well, you know as one is growing older, one need to control his or her habit of eating and drinking, before, I woke up as early as 5am daily, but now, due to ageing, I wake up 7am to observe my prayers and engage in other meaningful activities. I eat well and take my lemon spiced with ginger and other necessary ingredients. For over 35 years, I have been mindful of what I generally consume. I never toyed with my health and never engaged in what I am not supposed to.
How would you advise younger women of this generation who aspire to be in your shoes?
They should be patient and be very close to God. They should not be in a hurry to succeed in business. I observed all these qualities before getting here today. There was even a time I was at an event and before I was ushered into the high table, I had to look for somewhere to initially sit and someone spotted me and shouted 'this is the owner of Blessed Water' and everyone was amazed because nobody recognized me when I first came in to sit down. So, they need to be patient and God Almighty will take them to their desired dreams.
What is your take on the sad development of rape allegations in the country?
Actually, it is very sad like you said. I wonder why a man should be so wicked to sleep with his own daughter. I think this is the perilous time we talk about. Sometimes, the parents too must be blamed. It depends on how you train your children. Some girls dress for men to rape them. They go about with skimpy dresses and seductive attires. We should try and train our kids the way of the Lord, so they would not run into troubles. How many Muslim ladies wearing the Hijab have you heard of being raped? One of my workers' daughter was staying with me, I trained her never to visit any of my male workers' rooms and I also cautioned her on many things because I remember then when I was small, my mother used to warn me that if any man touched me, I would be pregnant. So, when I was in school, I did not allow any man to touch me, I fight them vividly if they tried to and it really helped because I finished my education and stood on my own as a reliable, responsible and non-liable lady before I got married to my husband. If we could train our daughters like this, then the issue of rape will drastically reduce or be exterminated from our society. But, you go about seeing young girls dressing provocatively, how do you want to curb rape? So parents and governments need to do more in helping us solve this ugly menace called rape.
Now that you are clocking 65 years soon, what is the future of Blessed Water?
The future is bright and very hopeful, that is why I am recruiting new hands to properly manage the business. I do not need someone that has nothing to offer for himself let alone our business. I need a goal getter and someone with creative thinking that would take the company to another brand new level. There are some people that look like they have something to offer, but when you check them properly, you'll realize that they have nothing upstairs.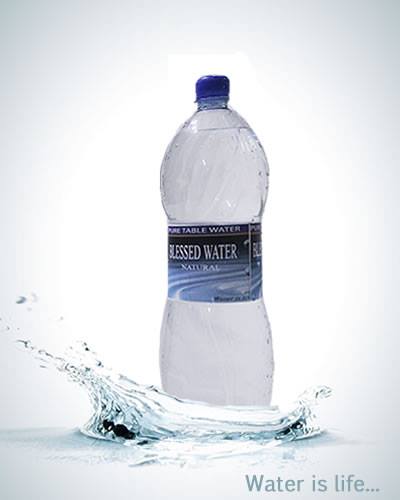 READ ALSO: THE UNTOLD STORY OF RISE TO EMINENCE OF MELE KOLO KYARI GROUP MANAGING DIRECTOR-GMD NIGERIAN NATIONAL PETROLEUM CORPORATION
How did you meet your husband ma?
It was by accident. We met many years ago. You know I told you I love my mother so much. So, it was in the process of leaving Ibadan to visit her in Gbongan after buying some things for her that I had a clash with the bus I entered in Ibadan. The driver suddenly told the few of us in the bus that some people have chartered the bus and that we should alight to take another bus. I was so furious and I refused to come down from the bus. We dragged it for quite some minutes until one gentleman came alongside his friend and asked me to be calm and allow the driver carry the people. So, I reluctantly came down and stayed on the road side for another vehicle. Unknowingly to me, these two young men who came into the garage to buy something came with a car and they then offered to help me to where I am going, I told them am heading for Gbongan and they said they were on their way to Ile-Ife. So, I prayerfully joined them and sat at the back thinking in my mind that even if they were kidnappers, I would just open the back door and ran away. However, when we were on the way, I kept my lesson note at the side door of the car and forgot it when they eventually dropped me at Gbongan which is along Ife road and when they asked for my name, I told them Funke. Then, when they were coming back they branched Gbongan and asked for Funke but nobody knew who is called Funke, so nobody could answer them until they should some people my lesson note which has my real names and then everyone was like 'aahh you are looking for the daughter of the famous Chief Olopade' and because I was a tall, very beautiful and light skinned girl, most people in Gbongan town believed I did not belong to their clan, so often times they would say 'omo to ma n shako yen' meaning that girl that used to raise her ego. But, they just showed them the way to our house and they came and met one of my uncles who then directed them to me. They came to Gbongan with one elderly lady who I knew at school and immediately she spotted me she was surprised and I was too. So, we got chatting and that was the beginning of the affair and thank God today, we are happily married with lovely children. But, it was not easy at the start because I felt somehow, but God knows better. If not for my lesson note, we would not have met or talked…. (general laughter).
So, how are the children doing?
They are doing fantastically fine. I travel to the United Kingdom to see their families and whenever I am going, I usually buy a lot of things along so they could keep feeling the Nigerian in them. I try as much as possible to keep close tab with my children and their families. It has been awesome and I thank the Almighty God for this.
Your 65th birthday is fast approaching, what is the plan on ground to celebrate it?
By the Special Grace of God, we shall celebrate it in a normal way, mostly targeted at giving back to the poor. I plan to visit the orphanages, old peoples' homes and others while I will also celebrate my birthday at the Redeemed Christian Church of God. I would invite all you journalists t be part of the celebration because you are also part of the Blessed Water family right from the start. So, this is the right time for us all to come together and thank the Almighty Creator for giving me the privilege of clocking 65. I have every reason to thank God because He has been with me through thick and thin both in my personal, marital, spiritual and industrial lives. He is surely worthy of my praise.