"YOUR SONS WANT TO SELL YOUR PROPERTY TO BURY YOU 2 YEARS AFTER YOUR DEATH"—SEINYE O. B LULU-BRIGGS WRITES HUSBAND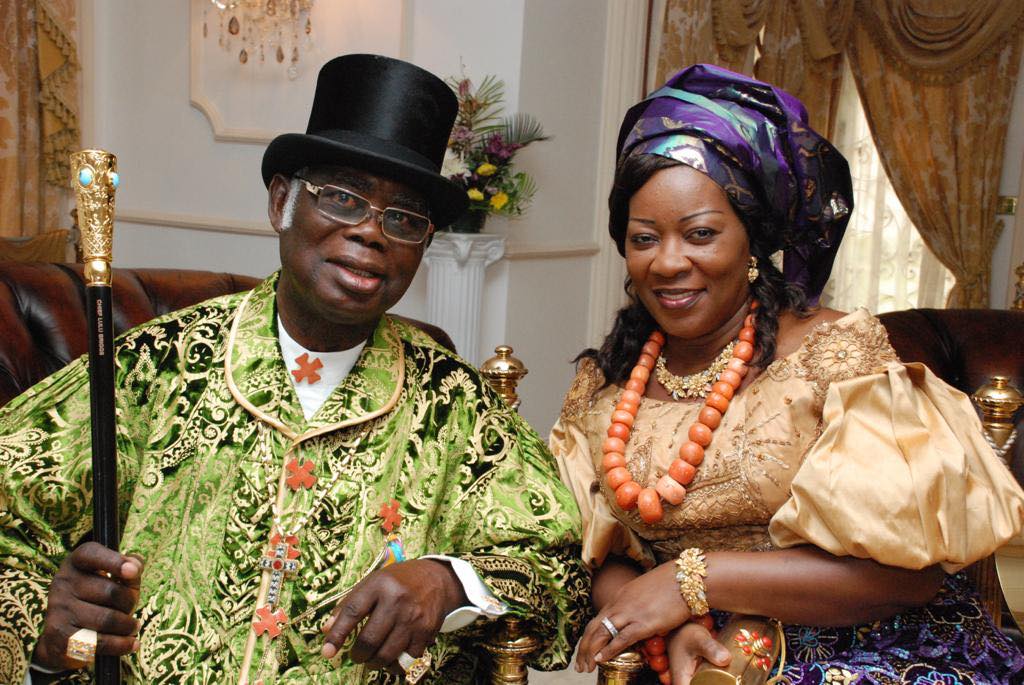 Intrigues treachery rule over the family of late multimillionaire Oil mogul High Chief O.B Lulu-Briggs 2-years and 3-months after his death En route to far away Accra Ghana on 27th December, 2018 as his only surviving wife Dr. (Mrs.) Seinye Lulu-Briggs has written a heart wrenching Letter to her dead husband narrating her ordeals in the hands of her step sons.
TC cull from KALABARI TIMES what widow to O.B Lulu-Briggs wrote having stayed away from his burial at Abonnema Akuku Toru Local Government Area of Rivers state on Saturday, 13th of March, 2021. At the service of Songs organized on Friday 12th March at Lulu-Kiri Sombreiro Rivers beach Abonnema, the chief mourner Chief Dumo Lulu-Briggs had told the crowd that there is no feud or acrimony in the family but Dr. (Mrs.) Seinye Lulu-Briggs Letter to her late husband titled "A LETTER TO MY BELOVED HUSBAND, HIGH CHIEF (DR.) O.B LULU-BRIGGS OON, DCF, DSSRS-May 22, 1930—December 27, 2018", published in Kalabari Times a local journal which was circulated at the burial ceremony venue and in Social Media took drew greater attention to the contrary from Chief Barrister Dumo Lulu-Briggs position.
READ ON
"My Opuda, today over two years since you peacefully translated into glory in Accra, Ghana, a funeral will hopefully be held in your honour. However, your children (except Dumo) and I cannot confirm whether the remains that will be committed to mother earth will be the remains of you my beloved husband because I still have your travel documents and the required export documents to bring you to your beloved Abonnema. One wonders how your remains could have been smuggled into Nigeria for burial.
My dear Opuda I know it was your wish to be laid to rest in your beloved hometown, alongside Young Briggs Iniikeiroari II, your great grandfather, legendary Kalabari warrior, the Founder and Sole Defender of Abonnema and Benson Lulu-Briggs, your beloved father. These are the two men you credited for shaping your world view and inspiring you to set and achieve audacious goals for the greater good of your community. All glory, praise, honour and thanks to God Almighty for your extraordinary and impactful life. I am also thankful to God that, as your wife, I had the opportunity to love and to be loved by you unconditionally. You drew me into your life and shared your all with me. You did everything humanly possible to protect me, even in the face of all sorts of deceptions and misconceptions from those who did not understand our commitment to each other. We experienced so much together that I believed there was nothing any human being could do that would surprise me. Over the past 807 days, I have come to appreciate what you taught me about death bringing out the worst in persons, especially those without Christ. I am writing to share what I have endured since you left this wicked world, in the hope that as your life inspired so many, they would also learn from the events that trailed your transition.
The shock of your sudden transition initially drew our immediate family together. By December 29, 2018 all your children-Senibo, Dumo, Sofiri, Solate, Aima, Rachael, Dateim, Iyowuna and I were in Accra and we visited Transitions Place Funeral Home together. We prayed and mourned your transition to glory and thanked God for your illustrious life. We were overwhelmed by the outpouring of prayers, love and kind wishes that we gratefully received from around the world as the news spread. And it will warm your heart to know that there are who have continued to pray with us and encourage us till today. You were not one to tarry over burial, so we began making plans for yours to take place on January 26, 2019. Dumo and Senibo commissioned a custom-made casket to transport your body back to Nigeria. We agreed to keep your body in Accra until the burial- with encouragement and support from our Oruwari Briggs War Canoe House Chiefs who, on January 1, 2019, had formally announced your passing. As part of our plans, I ensured that all the statutory requirements to move your remains to Nigeria were in place in a timely manner.
The first sign that our family unity would unravel was a news story, 'Discordant Tunes in Late Benson Lulu-Briggs Family; which was published in ThisDay of Sunday, January 13, 2019. Full of lies about me and our plans for your burial, it was the first of what would become a relentless vitriolic media attack against me.
A few days later, at a meeting with Senibo, Dumo, Sofiri and Dateim, the issue of when you would be buried, a matter that would become a point of contention, emerged. Senibo said he could not remember agreeing to the 26th of January 2019 date. Eventually at another family meeting held in Port Harcourt, we agreed that you would be buried on April 6, 2019, which was Dumo's preferred date. Curiously, Senibo, Dumo and SOFIRI then asked for an inventory of your properties so that they could decide which one of the properties to sell to cover your funeral expenses and to give Senibo and Sofiri money to enable them to prepare for your funeral as well. I reminded them it was a longstanding public knowledge that you had a Will and I would not interfere with your last Wishes. I also mentioned that our family is blessed and need not sell any property to bury you. In March at another meeting, Dumo informed us that the April 6, 2019 date was no longer feasible as it would interfere with the resumption of the gubernatorial election which he was contesting in. Consequently, on March 23, 2019, he unilaterally announced an indefinite postponement of your funeral.
By then we had accepted the offer of your bosom friend, His Royal Majesty, Otumfuo Nana Osei II, the Asantehene of Ashanti kingdom to host a farewell service in Accra in your honour, to begin your obsequies on March 30th, 2019 the day your body was scheduled for its home coming flight to Nigeria. Dumo made every effort to stop the memorial service, but to the glory of God with the support of your friends and associates, it was a beautiful service led by Reverend Eric Owusu at The Chapel Transition Place, Accra and graced by family, friends and associates from around the world. The Asantehene was represented by Nana Susubribi Krobea Asante, Dr. S.K. B. Asante, the Omanhene of Asokore traditional area of Asante region.
Given the now open hostility of Dumo, I started reaching out to family and friends to help us close ranks to enable us to bury you as soon as possible. Your son, Pastor David Ibiyeomie, my brother, who incidentally is also Dumo's Pastor, was kind enough to facilitate a meeting. Dumo opened up, indicating that unless I ceded what he considered your legacy assets- Moni Pulo Limited, MPL; Rachael Hotel; O.B Lulu-Briggs Foundation and our matrimonial home, Sombreiro House in Port Harcourt-to him, you would not be buried because he viewed your body as his only bargaining chip to access your estate. Dumo threatened that if I did not agree to his demands, he would accuse me of murdering you on the flight to Accra. I made it clear that I would never negotiate on any conditions that would dishonor you. He also requested your death certificate. I showed it to him on my phone and later forwarded him an electronic copy. However, he was not satisfied.
This turn of events brought to my mind the acrimonious attempts by Dumo, Senibo and Sofiri between 2002 and 2004 to dispossess you of Moni Pulo, leveling criminal allegations against and embroiled you in several legal cases in Nigeria, UK and US. At the time, you were saddened at the public spectacle of the legal wrangling with your children, which was widely reported in the media. Although you eventually prevailed in the court cases, when the injunction against you was lifted, you were persuaded to pay them off in two settlements; One to Dumo and another to Senibo and Sofiri with the understanding that they, and any parties related to them, would not ever interfere in the operations of Moni Pulo Limited in perpetuity. You made it clear that the settlements were their inheritance from you. You even graciously settled their lawyer Damien Dodo, now SAN. Your sons' failed gambit caused a strain in their relationships with you, which unfortunately lasted the rest of your life. Now our sons were taking advantage of your transition to glory to make another desperate attempt to grab your assets which you wisely put in trust long before your passing for the benefit of your grandchildren and future generations. The attacks on me are an attack on you-the man who refused to bow to their greed and dis respect. Dumo launched a multi-pronged attack to activate the threat he made to me when I made it clear that I would uphold and respect your wishes regarding your legacy.
In Abonnema, Dumo spread false information about me including to our family chiefs. This culminated in a preposterous publication in the national press signed by 7 of your chiefs (namely Chief Navy Captain A.B. Ajumogobia, Chief Ibim Masi Briggs, Chief Jacob Karibi Dokubo Briggs, Chief Solomon Wenike Y. Briggs, Chief Festus Daniel Captain Briggs, Chief Dumo John Membere, Chief C. Figbene L. Membere) in May 2019, in which, amongst other lies they declared that your body was missing and nobody had seen it, not even Dumo. There are also videos on social media showing community members casting aspersions about me. Dumo also sponsored and distributed local publications full of blatant lies about me to the world.
A BOGUS PETITION TO THE IGP
On the morning of June 3, 2019 Moni Pulo premises in Port Harcourt were overrun by officers of the Nigeria Police Headquarters, Force Criminal Investigation and Intelligence Department, FCIID, led by one ACP Adaku Uche-Anya for about 8-hours. They broke down 3 office doors, tried to arrest our staff members and threatened to seize our computers and files. I was informed by the Deputy Police Inspector General then head of Force Criminal Investigation and Intelligence Department Michael Ogbizi, that the raid was part of an investigation based on a petition by Dumo. The petition, A Call to Investigate the Death of High Chief Olu Benson Lulu-Briggs, was dated April 10, 2019 and addressed to the Inspector General of Police. It is full of spurious allegations about me including that I was responsible for your demise and had committed fraudulent activities. Based on wise counsel, I cut my business trip abroad short and flew directly to Abuja where a copy of the obnoxious petition was flashed at me in the FCIID office. I wrote a statement countering the misinformation it contained with facts and documentation including a 30 page medical report by your doctors. That same week, all bank accounts where I am signatory were blocked via magistrate's Order with a questionable signature and no name assigned. It also came to light that Dumo had secured an exparte Order from a Rivers state High Court stopping the reading of your WILL which, based on your instructions, your Lawyers had duly scheduled and invited all relevant parties to attend. Eventually this Order was struck out and your WILL was read in Port Harcourt and a Letter of Probate granted to the executors of your WILL in line with your directives. Strangely, Dumo also filed a WILL he claimed you gave him in 2003, at another High Court in Rivers state. That case was thrown out. On Wednesday, June 19, 2019 I was invited to Moscow Road Police Headquarters in Port Harcourt to make further statements related to Dumo's petition. I was asked to come with anyone in Port Harcourt who had traveled with us to Accra on the day you translated to glory and senior members of our Moni Pulo team. The Police from Abuja FCIID were openly hostile and deliberately treated us badly. Although we reported to the station by 11:00 am as requested, I was not attended until 8:00 pm when I was asked to write further statements. We were released at about 10:45 pm after my lawyers complained to Force Headquarters Abuja about our detention.
KALABARI KING INTERVENTION
By now, I was not the only one concerned about the delay in your burial. His Serene Majesty, Kalabari king, Amanyanabo of Kalabari, King (Professor) T.J.T Princewill, JP, CFR, Amachree XI established a committee to look into the issue. And on June 17, 2019 as I returned to Nigeria to attend a meeting of the committee, I was stopped, stripped of my (international) passport and held against my will for 7-hours by Nigerian Immigration officials in Abuja based on false allegations by Dumo. My Passport was not given back to me until Friday, June 21, 2019. Despite this, I participated in the meeting, in which
Dumo sought to establish what Kalabari custom was regarding the role of a woman once she loses her husband. However, the committee insisted that its remit was to find out why my husband, an eminent Kalabari leader and icon, had not been buried almost 6-months after his demise. At the next meeting, on June 26, 2019 Dumo was unable to respond to my questions before the meeting was adjourned due to his insistence that he had a meeting to attend. The following month, July 20, 2019, it came to light that Dumo had written to the Amanyanabo to clarify roles of sons, wives and chiefs in burials of prominent indigenes. In response to their letter the Amanyanabo stated that under Kalabari Law and custom I should retire and not be seen or be part of any of your funeral plans. This is contrary to your wishes clearly stated in your WILL. The Letter was immediately circulated widely in the electronic and print media. And Dumo used this Letter in support of his application in court.
Attempts to convene another sitting of the committee to allow me to complete my submission to it, were thwarted by Dumo using the excuse of attending meetings in Ghana. Truth be told, the formal response to Dumo's Letter effectively nullified the committee's mandate and it was unable to complete its assignment.
As June drew to a close, I received a call from Adaku Uche-Anya informing me that the Police would be carrying out an autopsy on your body in Accra, Ghana. I was astounded! Despite turning over tons of information to counter all the fake claims in the flimsy petition about your demise, on Tuesday, July 9, 2019, I received a formal request that I needed to be in Accra for the autopsy.
I arrived the following day and went directly to a meeting with Mrs Maame Tiwaa Yaa Addo-Danquah, Director General, Criminal Investigation Department, CID, Ghana Police. The Ghana Police assured me that they needed to understand the allegations and arrive at their own conclusion before an Order for autopsy could be issued. She requested that everyone with me who had been on the chartered flight with my husband to Accra should make statements. I left confident that the decision to carry out an autopsy on your body had not yet been made. However, to my surprise the next day, Thursday, July 11, 2019 at about 2:45 pm, I heard rumour that the Ghana Police CID would pick up your body for autopsy at 8:30 am the following morning. Neither the Nigerian Police who had invited me to Accra nor the Ghana Police had bothered to inform me. I called the Ghana Police and spoke to Police Commissioner Kofi Boakye and Mrs. Addo-Danquah Head of Ghana CID. I was surprised at their belligerent confirmation that the autopsy would be carried out. They mentioned that Professor Agyeman Badu Akosa, a renowned Ghanaian Pathologist, would be impartial. It was all very confusing.
The next day, Senibo, Dumo and Sofiri arrived at the transitions Place mortuary with the Ghanaian and Nigerian Police. However, the autopsy was not carried out because the first and second Coroner's Orders presented to Transitions Place did NOT instruct it to release the body for the autopsy. By close of the day, my lawyers had secured an Accra High Court injunction against the autopsy based on the fact that I had been kept in the dark about the process and unlike our sons, did not have representation in the autopsy. I also needed assurances that your body would be returned to the funeral home after the autopsy. It was on the basis of this Injunction Application that the third Coroner's Order submitted to the funeral home was set aside temporarily. Needless to say, neither the Nigerian Police nor the Ghanaian Police were happy with the turn of events. They threatened the funeral home that they would be back with the SWAT team to take your body for autopsy the following Monday. On Monday 15, 2019, Mrs. Addo-Danquah held a meeting with all parties to agree on the modalities for the postmortem. It was agreed that:
(i)The autopsy would be performed on Friday, July 19, 2019;
(ii)It would take place at 37 Military Hospital and pathologists at the hospital would carry out the autopsy;
(iii) Both parties would be represented by a maximum of two pathologists each and
Your body would be conveyed to the 37 Military Hospital and returned to Transitions Place by the mortuary staff.
This paved the way for the postmortem on your body that was done on Friday July 19, 2019 at 37 Military Hospital. At the pre-autopsy meeting, it emerged that Professor Agyeman Badu Akosa whom I had been assured by the Ghana Police would be independent and impartial was actually one of Dumo's pathologists! As expected, the report of the autopsy confirmed that you died a natural death; contrary to the mischievous petition there was no foul play. I issued a Press statement to that effect.
As you can imagine our sons were extremely upset with the manner in which whatever plans they had for the postmortem on July 1, 2019 were miraculously averted. They cried foul and tendered a formal complaint to the Ghana Police. The CID boss convened a meeting with all parties on July 22, 2019 at 37 Military Hospital to discuss the autopsy process. After clarifying and laying out the facts, Dumo and his lawyers' allegations were summarily dismissed. The Military team insisted that there had been no foul play in the autopsy stating that it would continue the process and Dumo and his team could proceed as they wished.
By then Dumo had already filed a case in Accra on July 19, 2019 seeking to restrain me from participating in any aspect of planning and executing your obsequies. It now appeared that the autopsy had been a ruse to gain access to your body and deny me of participation in your burial!
On August 6, 2019, they applied for and received an order on September 6, 2019 to carry out an inquest-including a second autopsy notwithstanding that the first autopsy that they had compelled to take place was still ongoing. Thankfully the case was thrown out.
ESCALATION OF MEDIA ATTACK
At this time Dumo then launched a massive press attack in the Ghana media on me as well as all the good Samaritans who had helped the family after you passed into glory that fateful day at Kotoko International Airport Clinic. It was disgraceful and unwarranted.
INTERVENTION BY H.E GOVERNOR NYESOM WIKE
On August 18, 2019 His Excellency Governor Nyesom Wike, Executive Governor of Rivers state invited me and Dumo to a meeting with the intention of paving the way for your burial. He went straight to the heart of the matter by asking what was causing the delay and the drama. Dumo was not coy at all -he said he wanted 50% of Moni Pulo Limited, MPL. The Governor appealed to a sacrifice so that the matter could be resolved. I restated my position on Dumo's demands which is that I would not negotiate against your wishes. However, as the matriarch of the family, I said I would gift 50% of my shares in MPL to all of our seven children, not just to Dumo. The governor was pleased with my response and asked us to go away and work out the modalities.
Dumo and I held two very emotional meetings. He appealed to me to hand over custody of your body to him. I agreed, on condition that the body would remain in a Transition Place until time of your burial. He also requested that our lawyers should meet in Port Harcourt to draw up a settlement agreement. I reminded him that I was not negotiating against your wishes, and it would not be necessary. I asked him to call a meeting with his siblings so I could formally notify all of them of my decision to gift 50% of my MPL shares to all of them and agree on burial dates and plans. He objected, stating that he was not aware that I had any shares in MPL to gift them!
Subsequently, we held another meeting with Governor Wike on September 13, 2019, during which I said I did not trust Dumo and I would not hand over your body to him until it was being removed for your burial. Governor Wike asked me if I would hand over the body to his chief of staff to bring it for a State burial, to which I gratefully consented.
At a third meeting on September20, 2019, the Governor asked me to set aside your WILL and share your assets with your three elder sons who you had excluded from your WILL. He asked my lawyers to take me aside and persuade me, of course, I refused-how can I interfere with your last WILL and Testament? The meeting was adjourned with the agreement that both parties would forward their proposals to the Attorney General who would call a meeting to bridge any gaps. The requests in Dumo's proposal were outrageous. He wanted your wishes as laid out in your last WILL and TESTAMENT, including your inter vivo gifts and my personal businesses set aside and he would redistribute your assets as he deemed appropriate.
By now Dumo's attack had been extended to family, friends and associates. Some of our other children's friends received threatening phone calls. My Chief of Staff and Moni Pulo's Head of Community Relations and Administration were warned via anonymous callers to distance themselves from me or else they would lose their lives. One of my camera men was threatened, offered money to work against me and had his home burgled and his CPU stolen.
The most disturbing action during this period was brazen assassination attempt on one of my senior staff. I thank God for His faithfulness and grace that no lives were lost. All these incidences were reported to the Police but we are yet to receive any feedback on their investigations.
ATTEMPT TO HAVE FALSE CHARGES BROUGHT AGAINST ME
As 2019 drew to a close, I was intimated that a case had been filed against me at the High Court, Abuja. There were no charges yet but a warrant for my arrest was imminent following moves by Dumo as part of his sustained plot to persecute and discredit me. Following a series of high-level meetings, I submitted fact-based petitions to the concerned authorities and I was able to quash the devious conspiracy.
WAITING FOR THE BURIAL
In several landmark rulings, from the High Court to the Supreme Court of Ghana, it was ordered that the result of the autopsy performed on your body be released. Contrary to Dumo's demand, the courts also ordered that I should be involved in your burial plans in line with your wishes; that my representatives and those of our four younger children should be part of the process; and that Dumo give a binding unconditional undertaking that I would not be harmed during the burial.
Accordingly, the report of your autopsy was released. It ruled out any foul play in your death. However, I was deeply saddened by the public release of all the Health challenges you faced but handled with grace, never allowing any to keep you from living an active, full, purposeful and productive life until December27, 2018.
Significantly, the result of the autopsy removed a major impediment to your burial arrangements. Dumo had opposed your early burial by falsely claiming that he was not satisfied with the manner of your death. The autopsy was part of the investigation and the result appears to have put that process into abeyance.
On February 25, 2020, Dumo illegally removed your body from Transitions Funeral Home to an unknown location contrary to the ruling of the High Court of Ghana. He did so without meeting any of the ruling's other conditions which would have ensured participation of all your family members including me planning for your burial. A spokesperson for Dumo even claimed the body was in Port Harcourt. But in the light of the half-truths and lies that had punctuated the propaganda against me since you passed into glory, it is hard to know what to believe. The general expectation was that this development would lead to an announcement of a burial date and plans to actualize it. This did not happen.
My dearly departed husband, it would interest you to know I still have your International Passport and the permits required to bring your body from Ghana to Nigeria for burial. As I write this letter, I have no idea where your body is or how it was smuggled into Nigeria if in fact it is your body Dumo intends to bury on March 13, 2021. I have made my concern known to the King of Abonnema who in a meeting directed Dumo to tell me and his siblings where your body is so that we can view it ahead of the burial. Dumo has refused to yield the committee's decision. For more than two years, Dumo and his supporters have publicly and falsely accused me of keeping your body away and of frustrating his efforts to have a quick burial for you-even as a Police petition that Dumo's lawyers wrote accused me of planning a quick burial for you! Unfortunately, many people bought into these untruths. They did not understand that Dumo, "took custody of your father's mortal remains you deliberately held back not only to pursue chieftaincy titles for self-aggrandizement but also to challenge his Last WILL and Testament in court and with the bitterness resulting from your failed court action you called the press conference to announce the burial date, just to play to the gallery and not real intention to give your father a befitting burial." (Chief Ferdinand Ngogo Alabraba, February 23, 2021). He also decided to "exclude your dad's widow and his daughter from the burial plans thus denying them the right to perform their customary roles to honour him in death". (Chief Ferdinand Ngogo Alabraba, February 23, 2021).
Finally, I want you to know my dear husband that I have been excluded by Dumo and his cohorts from being part of the planning and execution of your funeral, contrary to the first wish in your Last WILL and Testament which is now a public document.
The storm is heavy no doubt but I am not sinking but standing by the Grace of God.
I remain your loving devoted wife till you depart. Adieu.
Dr. (Mrs.) Seinye Lulu-Briggs.
Sombreiro House, Port Harcourt."
During the burial proper of late High Chief O.B Lulu-Briggs on March 13th, 2021 Dr. (Mrs.) Seinye Lulu-Briggs was absent but her special Letter written to her late husband circulated all over the burial arena through
KALABARI TIMES journal.