LATEST ON OYIGBO PIPELINE EXPLOSION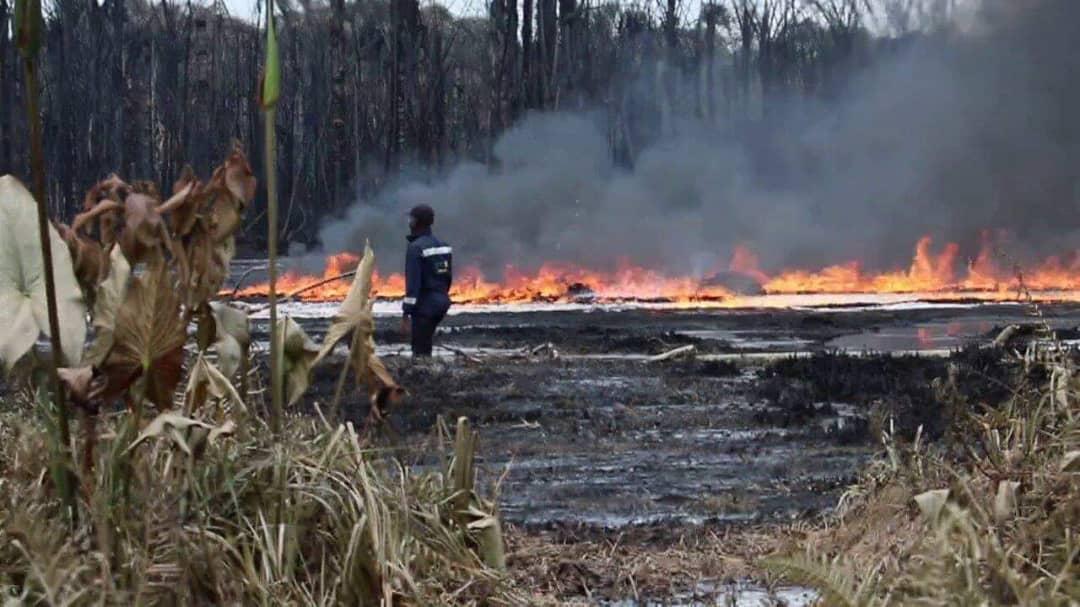 Residents of polluted Komkom community are risk of cancer epidemic—Medical Expert
...Gunshots fired to scare oil thieves caused fire explosion—NOSDRA
….Oil thieves ruptured refined Petroleum Pipeline
Doctors have raised alarm over imminent cancer epidemic two weeks after the pipeline explosion on June 22, in Komkom community in Oyigbo local government area of Rivers State where scores of people were burnt and residents have been inhaling pungent odour emanating from unrecovered decomposing Corpses in the swamps.
Reacting to the issue of the polluted environment, Dr. Ibitrokoemi Kurubo, former Chairman, Rivers State Branch of the Nigerian Medical Association, NMA, and medical Doctor with the University of Port Harcourt Teaching, UPTH, cautioned that if nothing is done urgently to decontaminate the swamps and entire environment of the Komkom community the toxic chemicals from the fast decomposing may percolate into the water consumed by residents they may be predisposed to cancer and other ailments.
"Something urgent should be done to clean up the area and decontaminate it and prevent both airborne and waterborne diseases to residents, especially Cancer. Official of government were yet to give accurate figures of the dead.
However, at Komkom community volunteers said at the last count, 43 burnt corpses were recovered, while many fast decomposing bodies were trapped in swamp.
It could recalled that over 100 residents who rushed to the site of the ruptured pipeline of the Nigerian National Petroleum Company, NNPC, to scoop leaking petroleum products were burnt to death.
Meanwhile, the South-South Director of National Oil Spill Detection Response Agency, NOSDRA, Cyrus Nkangwung.
Director of NOSDRA, Cyrus Nkangwung, advised government and the agencies concerned quickly decontaminate the site of the explosion because of the smell from dead bodies that fast decomposing that they have not been recovered and buried.
"We also discovered that the area was polluted because of dead bodies and other organisms also died during process so we have ordered for immediate clean-up of the area so as to allow proper restoration to take place. We will do one assessment that will uncover whole scenario of what happen"
On the immediate cause of the fire and explosion, Nkangwung said the gunshot from a security agent pursuing one of the oil thieves caused the fire and explosion.
READ ALSO: 6 DIVISION OF NIGERIAN ARMY CONCLUDES 2019 ARMY WEEK CELEBRATION
According to Nkangwung, over 16,000 litres of petrol pour into over 21,000 hectares of land, adding that oil thieves vandalise the pipeline.
"The cause of Spill is sabotage as we discovered one two inch pipe on top trapping the pipeline in the centre which another person kept.
So the team agreed that due to pressure from Premium Motor Spirit (PMS) which passes through Pipeline, the valve attempted put fail cause spill for environment."